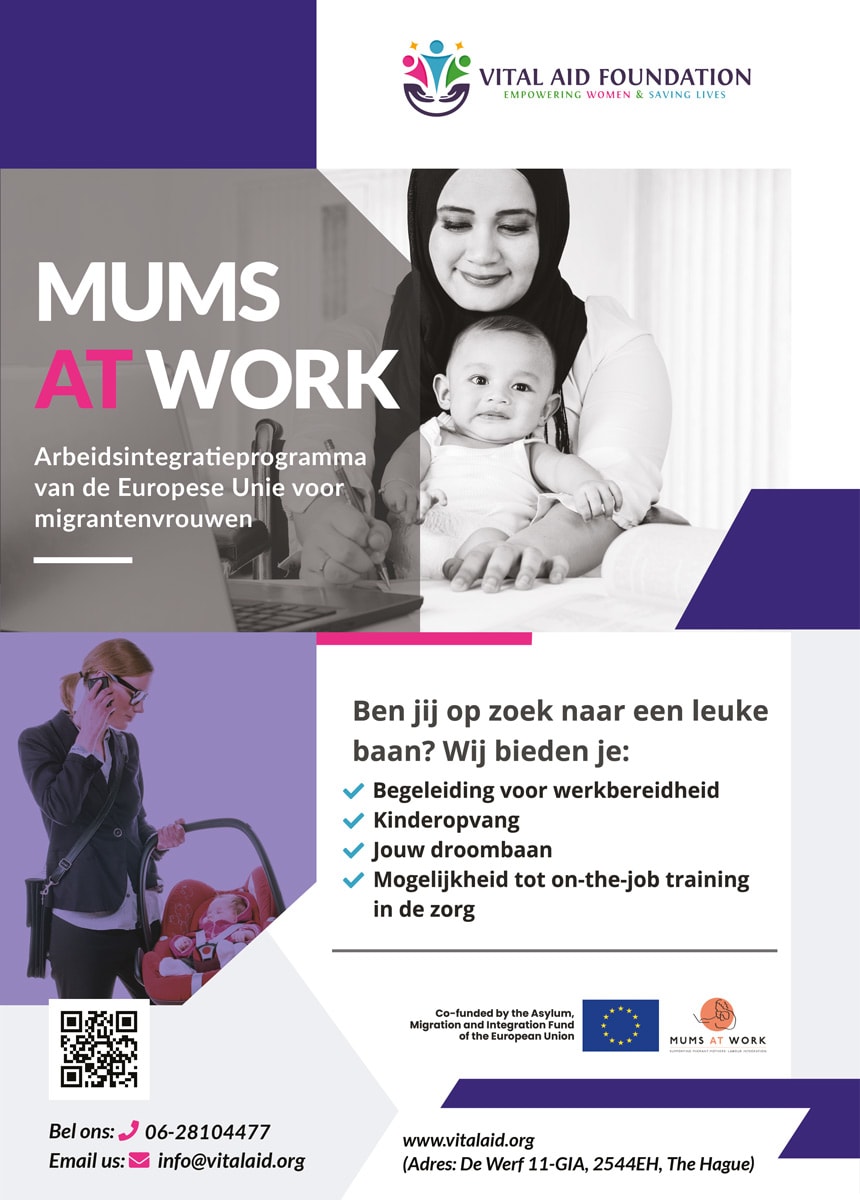 VAF supports women to find work, improve their social network and independence.
VAF supports women who find it challenging to get work secure job or an apprenticeship in the care sector.
Our apprenticeship solutions combine learning with practice in the care and welfare sector.
Through our program, women from various backgrounds get acquainted with healthcare and follow a (preliminary) training to a paid job.
Do you have any question for us concerning jobs and recruitment?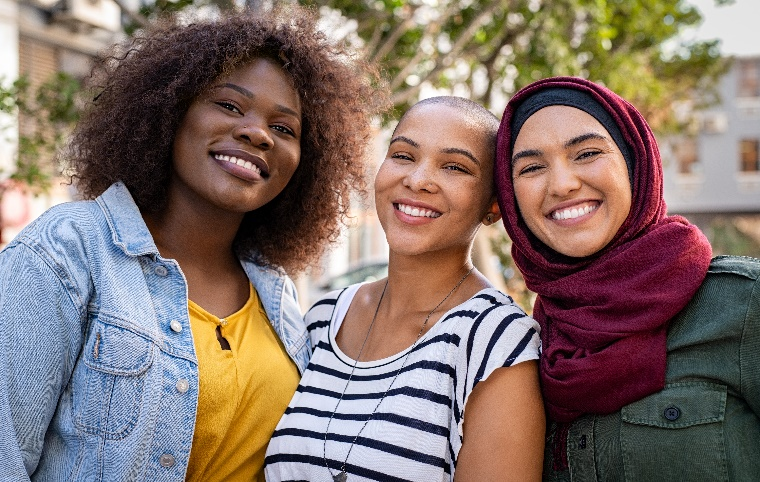 Proposal: ID 957902: MUMS at WORK
Date of implementation: February 2021 to March 2023
The project objective:
The general objective of MUMS at WORK project is to promote social and economic integration among groups of migrant mothers (aged 25-45) in the following countries: Cyprus, Germany, Spain, France, Italy and Netherlands, by enhancing their today and tomorrow employability.
By developing tailor-made coaching, counselling, and training paths for a better employability in the job market, the project will help at least 100 migrant mothers in total to find an active role in the society, thus increasing their integration in the community where they live, reducing their social exclusion, preventing the risk of poverty today and ensuring better retirement conditions for the future. This is all in line with the objectives of AMIF program on integration of third country nationals (TCNs).
Through its design, the project provides tailor-made support to migrant mothers as the main long-term beneficiaries, working with them on a case-to-case basis so as to respond flexibly to individual situations, requirements and personal outlooks. The backbone of the project is the delivery of individual and group counselling sessions, combined with the organisation of work experience opportunities.
Counseling seasons:
The counselling sessions are aimed at facilitating social integration of migrant mothers and opening avenues for labour market orientation, whereas the work experience opportunities will bring migrant mothers closer to the labour market and economic integration.
Networking to fight social isolation.
Social isolation and lack of a personal network can be an issue for migrant mothers, especially when they are confined to household tasks and do not carry out remunerated work. The project will support women who do not have a wide social network by creating a network of migrant mothers to meet other mothers in the neighbourhood to socialise, share information and knowledge about society or other topics like children's upbringing, or take part in an event like biking, swimming, and visits to historic places.
Discrimination and access to rights
Further the project will promote access to human rights for migrant women. This can include fighting discrimination and countering exploitation on the labour market, ensuring basic human rights in the workplace.
Network of supporters:
Furthermore, the project harnesses the power of community by creating strong local, regional and European stakeholder networks in support of migrant mothers. To this end, the project closely cooperates with important strategic partners, as medium-long term beneficiaries, including social support services, to benefit from their expertise for the tailor-made support of migrant mothers.
Employer's support group:
The project also engages very closely with employers as medium-long term beneficiaries, to prepare them to offer the kind of work experience opportunities that suit the needs of migrant mothers.
Awareness campaign:
Throughout the project, a dissemination campaign raises awareness of the situation of migrant mothers, including on the importance of facilitating social inclusion and access to needs-based working conditions for migrant mothers.
This is supported by two high profile European conferences that serve as a platform for networking and capacity building for migrant mothers, the sharing of best practices among project partners and for meetings of experts working towards the integration of migrant mothers on both local and European level.
Participating European organizations:
PRO ARBEIT – KREIS OFFENBACH (AOR)- KOMMUNALES JOBCENTER GERMANY

SYNTHESIS CENTER FOR RESEARCH AND EDUCATION LIMITED CYPRUS
ASOCIACIÓN BIENESTAR Y DESARROLLO SPAIN
 VITAL AID FOUNDATION NETHERLANDS
CENTRO INFORMAZIONE DOCUMENTAZIONE INIZIATIVA PER LO SVILUPPO – C.I.D.I.S. – ONLUS ITALY
SOLUTION: SOLIDARITÉ & INCLUSION FRANCE
RESEAU EUROPEEN DES FEMMES MIGRANTES BELGIUM
INTERNATIONAL MOTHER'S DAY
THE HAGUE, MAY 2022: