INTERNATIONAL Women's DAY
MARCH 11th 2022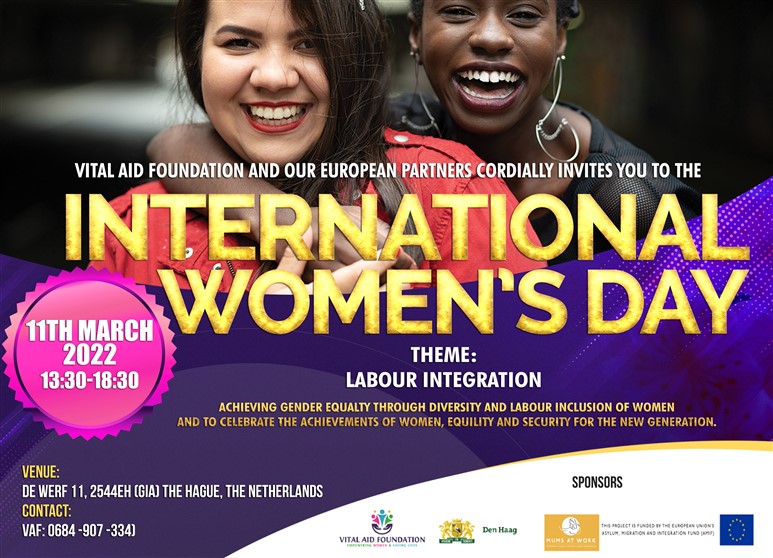 Vital aid and our European partner organizations cordially invites you to the International women's day 2022.
Theme: Labour integration for women
Th goal of this event is to celebrate equality through diversity and labour inclusion of women, promote peace and security of women for the new generation.
Datum:
11th of March 2022
Tijd:
13.30-18.30
Locatie:
GIA
De Werf 11
2544EH Den Haag
Participating European partners:
PRO ARBEIT – KREIS OFFENBACH (AOR)- KOMMUNALES JOBCENTER GERMANY
SYNTHESIS CENTER FOR RESEARCH AND EDUCATION LIMITED CYPRUS
ASOCIACIÓN BIENESTAR Y DESARROLLO SPAIN
CENTRO INFORMAZIONE DOCUMENTAZIONE INIZIATIVA PER LO SVILUPPO – C.I.D.I.S. – ONLUS ITALY
SOLUTION: SOLIDARITÉ & INCLUSION FRANCE
RESEAU EUROPEEN DES FEMMES MIGRANTES BELGIUM
VITAL AID FOUNDATION NETHERLANDS
NETHERLANDS ORGANIZATIONS, BUSINESSES, AND STAKEHOLDERS
Program:
| | |
| --- | --- |
| 13.30 | Reception of guests |
| 14.00 | Welcome address by EU project Coordinator |
| 14.15 | Opening remarks:  Guest of honor (The Mayor of the Hague and EU representative) |
| 14.30 | Presentation: Speaking impartation of leadership for young women |
| 15.00 | Presentations from EU partners, |
| 16.00 | Inspirational Video of the event, Poem, and individual artistic presentations |
| 16.30 | Interlude and Music group |
| 17.15 | Closing speech |
| 17.20 | Followed by Dinner & entertainment |
| 18.00 | Networking. |
Register your participation or contact us for more information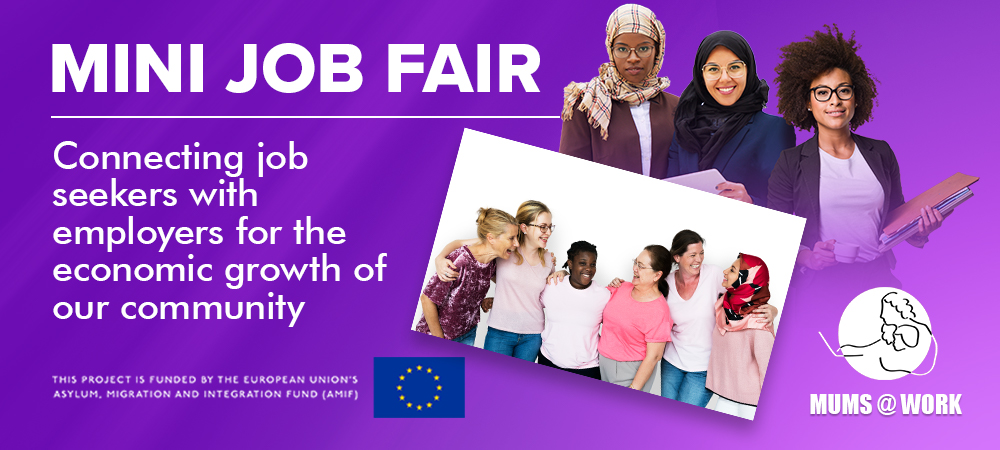 It is no doubt that 2020 posed numerous challenges for our community; many families struggled, and many jobs were lost due to the impact of COVID-19. As our city begins to open and we begin to rebuild, Vital aid The Hague wants nothing more than to lend a helping hand. As the COVID-19 begins to ease down, we recognize that there are still many people struggling to find employment, especially women.
Together with our European partner organizations and business associates, our goal is to bring job seekers together to connect with employers and job recruiters. In a socially distanced manner, individuals will have the opportunity to directly meet hiring managers through virtual or face-to-face meetings and to learn about various local career opportunities available.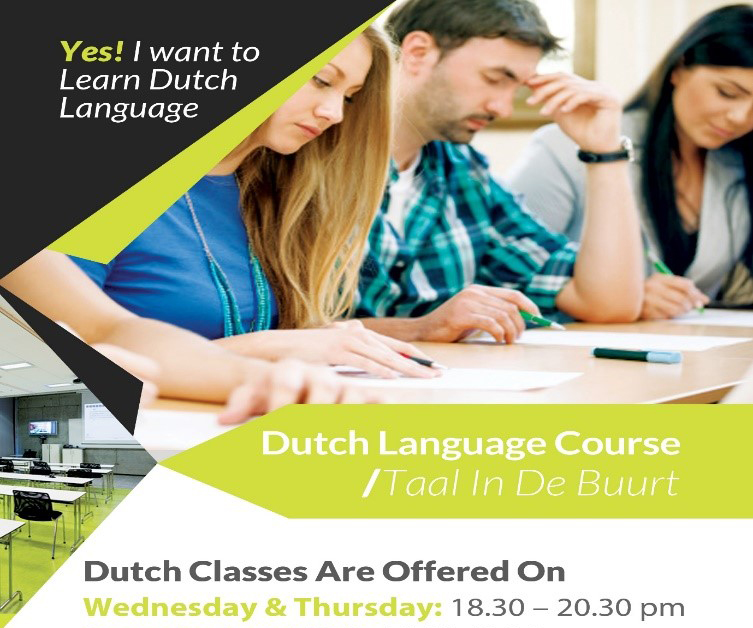 | | |
| --- | --- |
| Start date: | 3rd June 2021 |
| Days: | Wednesday & Thursday |
| Time: | 18.30- 20.30 pm. |
| Location | Den Haag centrum |
Project objective
The main purpose of this programme is to assist participants easily integrate and improve their socio-economic situation in the Netherlands.
The program will provide a wide range of assistance to participants such as:
Dutch language lessons and understanding the Dutch culture through excursions
and organizing activities with the locals to share and connect.
Preparation for job readiness and employment with the help of a personal coach
who is available on demand to help and guide participants through the process.
Target group
The target group generally consists of migrants in The Hague
including those from European countries.
Newcomers and old-comers who are motivated to learn Dutch.
Migrants who are planning to start their own business but need extra help to realize this dream.
Register your participation or contact us for more information
[]
keyboard_arrow_leftPrevious
Nextkeyboard_arrow_right